If you're looking for an off-grid solar contractor, you've come to the right place. We have the expertise and experience to ensure the proper design and implementation of an off-grid, battery-based solar electric system
Off-grid solar electric systems are designed to provide ample and continuous electricity for homes that are not connected to the utility power grid.
Off-grid solar systems rely on battery storage to supply continuous power during periods when sunlight is not available. Off-grid systems provide true energy independence and self-sufficiency.
Benefits of Off-Grid Solar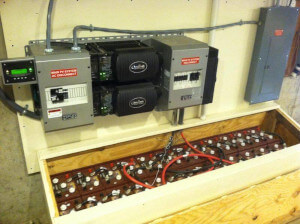 Most people who choose to go off-grid do so either for environmental reasons, out of a desire to be more energy independent, or because it makes financial sense.
Reduced Environmental Impact
Many individuals in Maine choose to go off-grid out of a desire to take responsibility for their own environmental impact. An off-grid system can allow you to use less energy while relying solely on renewable resources.
Greater Energy Independence
Many also appreciate the energy independence that going off-grid can offer. With an off-grid system, you're cutting ties with the electric utility completely. That means you won't be vulnerable to outages or rate increases.
More Affordable (In Some Circumstances)
Many of our off-grid customers are building in areas where utility provided power is not available or prohibitively expensive. Depending on how far you are from the power grid, it may make more financial sense to invest in your own power system than to pay for the utility to bring power to your building site.
Is Off-Grid Right for You?
Off-grid solar electric systems offer a number of benefits, but that doesn't mean they are the best option for everyone. For most of our customers, a grid-tied PV system will offer the best value and performance.
There are, however, circumstances when installing an off-grid system is the better option.
If want to install a residential system, for example, but your home is in a remote location, it may be too expensive to get the electric company out to your home.
An off-grid system could power your home without the need for integration with utility electricity supply. Off-grid is also an excellent option for camps.
Going Off-Grid with Maine Solar Solutions
If you're considering an off-grid system for your home or commercial property in Maine, please contact Maine Solar Solutions. It is our mission to give our customers the information they need to make an informed decision.
Through our consultative process, you can find out if going off-grid is right for you and which system options will be best suited for your property.
Interested in learning more about our process and what it takes to go solar in Maine? Contact us or call (207) 464-8084 today.