Maine businesses can also reap numerous benefits by installing a solar electric system.
Whether you are a small business owner or facility manager, Maine Solar Solutions has the knowledge and expertise to help your business make the switch to solar.
We've installed solar electric systems for local businesses, schools, and farms. We take a consultative approach with the goal of giving our customers the information they need to make an informed decision.
Why Commercial Solar?
Convert an operating expense, your electric bill, into a capital expense and fix your cost of electricity for 30 years or more. Many business owners and property managers throughout Maine are already switching to clean, renewable solar energy. The reason? A commercial solar electric system offers clear environmental benefits and a predictable, bankable financial return.
Tax Incentives*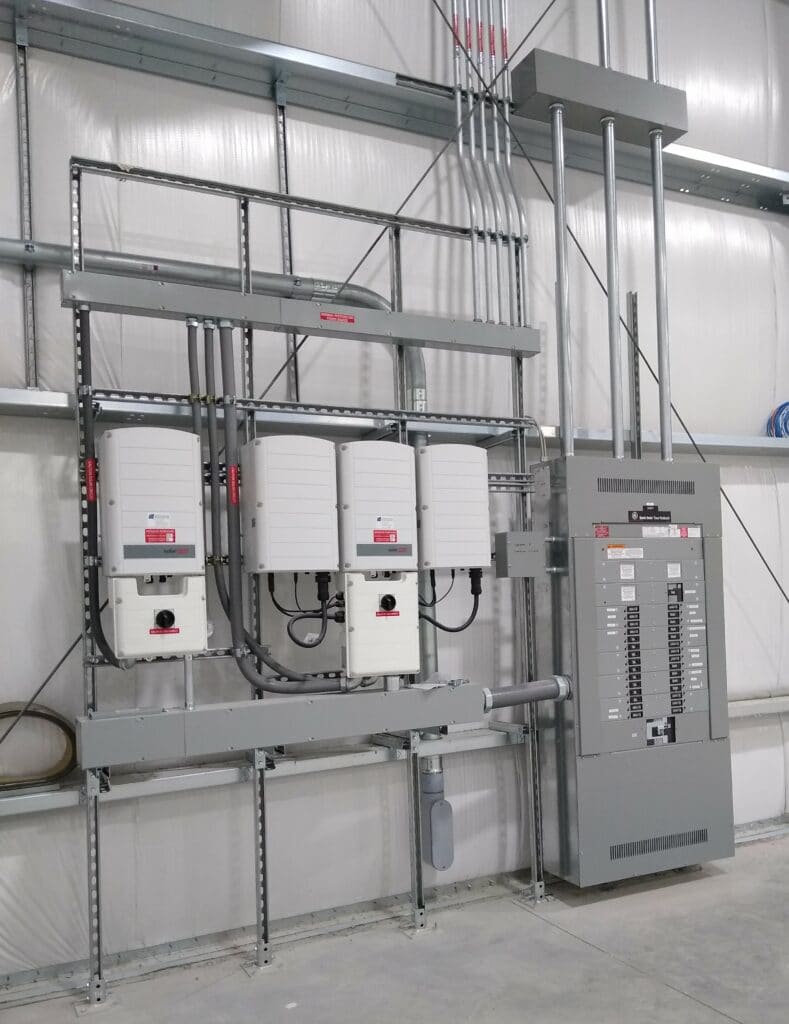 Commercial solar electric installations are eligible for a Federal Investment Tax Credit (ITC) for 30% of the solar electric system expenditures. The tax credit also applies to battery backup.
Solar electric systems also qualify for 100% bonus depreciation under the new tax bill. (customers can still opt for the MACRS 5-year depreciation schedule)
Commercial solar system owners can realize a rate of return increase by maximizing depreciation in the first year (the more a company can expense, the less they pay in taxes for that year.)
*Maine Solar Solutions does not provide tax, legal or financial advice. Please consult a tax professional to confirm your company's eligibility for federal incentives.
Federal REAP Grants
Many Maine businesses and agricultural producers qualify for Rural Energy for America Program (REAP) Grants. Maine Solar Solutions may offer some support in the grant-writing process on a case-by-case basis.
Available Funding:
Loan guarantees on loans up to 75% of total eligible project costs
Grants for up to 50% of total eligible project costs
Combined grant and loan guarantee funding up to 75% of total eligible project costs
Reduced Operating Costs
Solar electric systems produce reliable, clean energy during the times most businesses need it the most. The power that isn't utilized is fed back to the utility, producing a credit that can be applied against the power obtained from the grid during periods of high demand or low production. Commercial enterprises invest in PV systems in order to help lower operational costs and increase profits.
Improved Bottom Line
Along with savings in energy costs, solar provides a great defense against energy inflation. Investing in a PV system allows a business to fix the cost of electricity for 30 or more years. Fixing this cost allows companies to provide accurate long-term energy plans and budgets.
Increased Property Value
Solar increases a building's value by as much as $20 for every dollar it generates in a year, making your business worth more money.
Better Brand Equity
Customers will appreciate your business's commitment to sustainability, clean energy, and reduced environmental impact, giving you better brand equity.
Go Solar with Maine Solar Solutions
Maine Solar Solutions takes pride in helping commercial property owners throughout Maine understand how going solar can benefit them. If you are considering solar power for your small business, be sure to schedule a free solar site assessment with us.
From there, we'll prepare a preliminary proposal, discuss the best options for you, and revise your proposal to suit your budget and renewable energy goals best.
We always take a consultative approach; through our process, you'll get the information you need to make the best decision for your property or business.