Share the savings of sustainable and affordable solar energy with your friends, family, and neighbors. The Maine Solar Referral Program allows you to refer friends for a free solar site assessment that earns you rewards and your friend's savings if they choose to install a solar electric system with us.
Here's how it works
If you'd like to refer a friend, all you have to do is enter your friend's contact info into the web form below. When your friend schedules their free solar site assessment with us, you earn $25!
After your friend chooses to install solar, you both earn! You get a $250 reward and your friend gets $250 off the cost of their solar system.
By clicking submit you agree to the terms and conditions located here.
Anyone looking to save on their energy bill is a great candidate.
There is no limit to the number of referrals you can make.
---
You Could Also Host a Solar Party!
Host a Solar Party with Maine Solar Solutions with friends, family, and neighbors.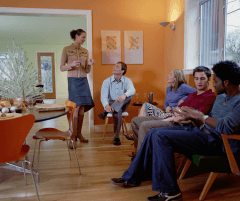 Love your panels? What better way to share them than by having a Solar Party! Invite at least SIX to TEN of your friends, family, and neighbors over who currently own a home and Maine Solar Solutions will do the rest. We'll create invites, provide appetizers and non-alcoholic drinks. Plus, you'll get $250 for each party guest that goes solar with us. You can HOST a solar party even if you are not able to install solar panels on your own home at this time, but choose friends that can!
Contact Nicole at nicole@mainesolarsolutions.com or (207) 871-7191 to learn more!
---
When your friends go solar, you get paid. Good for you, good for them and good for Maine.
Interested in learning more about our process and what it takes to go solar in Maine? Contact us or call (207) 464-8084 today.