Maine Solar Solutions specializes in the design and installation of renewable energy systems. We provide practical, cost-effective solar solutions for our clients.
Maine Solar Solutions is committed to customer satisfaction. Satisfaction is achieved by installing high-quality equipment, following the highest standard of workmanship, maintaining clear communication from initial contact through project completion.
We take a consultative approach to helping clients achieve their goals. From the initial process of explaining available solutions to clear presentation of appropriate technology; we act as your advocate to ensure the successful installation of a system that meets your needs and exceeds your expectations.
Maine Solar Solutions is an Efficiency Maine Residential Registered Vendor authorized to offer PACE and PowerSaver loans.

The Maine Solar Solutions team includes: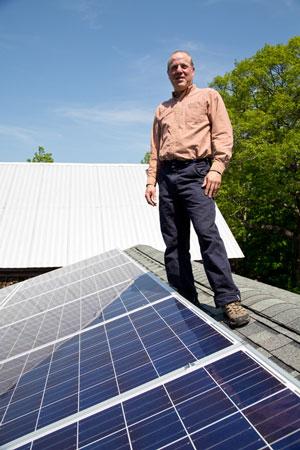 Sam Zuckerman, Owner. Maine Solar Certified Installer; Photovoltaic, Solar Thermal. NABCEP PV Entry Level, NABCEP Solar Thermal Entry Level.
Sam's focus is on guiding homeowners and business owners as they implement renewable energy systems.
Sam performs system design, material specification, and project management for customers' projects. Sam also oversees fieldwork and occasionally works alongside the crew in the field.
As the owner of Maine Solar Solutions, Sam is focused on customer satisfaction. Coming from a family that includes generations of business owners and entrepreneurs, Sam is personally committed to accountability from initial customer contact through successful project completion and beyond.
After an early career as a carpenter and construction manager for a design-build firm, Sam established Stone Cottage Contracting, a general contracting company focused on working with homeowners to manage and implement remodeling and renovation projects.
A lifelong interest in renewable energy and high-efficiency building practices led Sam to pursue a career in the growing solar energy sector. Prior to establishing Maine Solar Solutions, Sam worked as an independent installation sub-contractor, sales and project manager for two Portland area renewable energy companies.
Richard Casey, NABCEP PV Installer, Master Electrician.
Aaron Cartterfield, Sales and Project Manager. NABCEP PV Installer Certification.
Philip Walter, Lead Solar Electric Installer.
Sub-Contractors: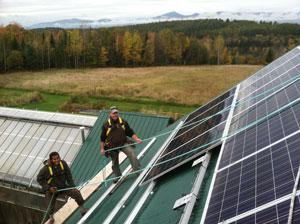 Richard Roughgarden of Maine Solar Engineering is an electrical engineer, master electrician, and NABCEP certified PV installer. Rich is a valued collaborator offering engineering and systems design services for complex installations.

Interested in learning more about our process and what it takes to go solar in Maine? Contact us or call (207) 464-8084 today.