More and more Mainers are turning to solar panels to reduce their electricity bill. If you're considering installing a residential or commercial solar electric system, you might wonder if your roof type is suitable. Solar panels can be installed on many different roof types, but the installation process and mounting hardware will vary.
Why Install Solar Panels On Your Roof?
Roofs are the most common installation location for solar electric systems – and for good reason. The more sun exposure solar panels get, the more solar energy they can produce to help replace power from the grid. Due to its elevation, your roof is usually the perfect spot. Plus, a rooftop system is supported by the building, meaning erecting a supporting structure is unnecessary. Roof-mounted solar panels can also be installed on outbuildings, such as a barn, shed, garage, or even carport. Solar arrays can be split into multiple sections to work around roof components, such as skylights, vents, or pipes.
What Are The Different Roof Types, And Which Ones Do You Install Solar Panels On?
Depending on your roof type and material, the method of attaching solar panels to your roof will change. Let's take a look at some common roof materials in Maine, how we secure solar panels to each, and which roofs our team will not install on.
Asphalt Shingle Roofs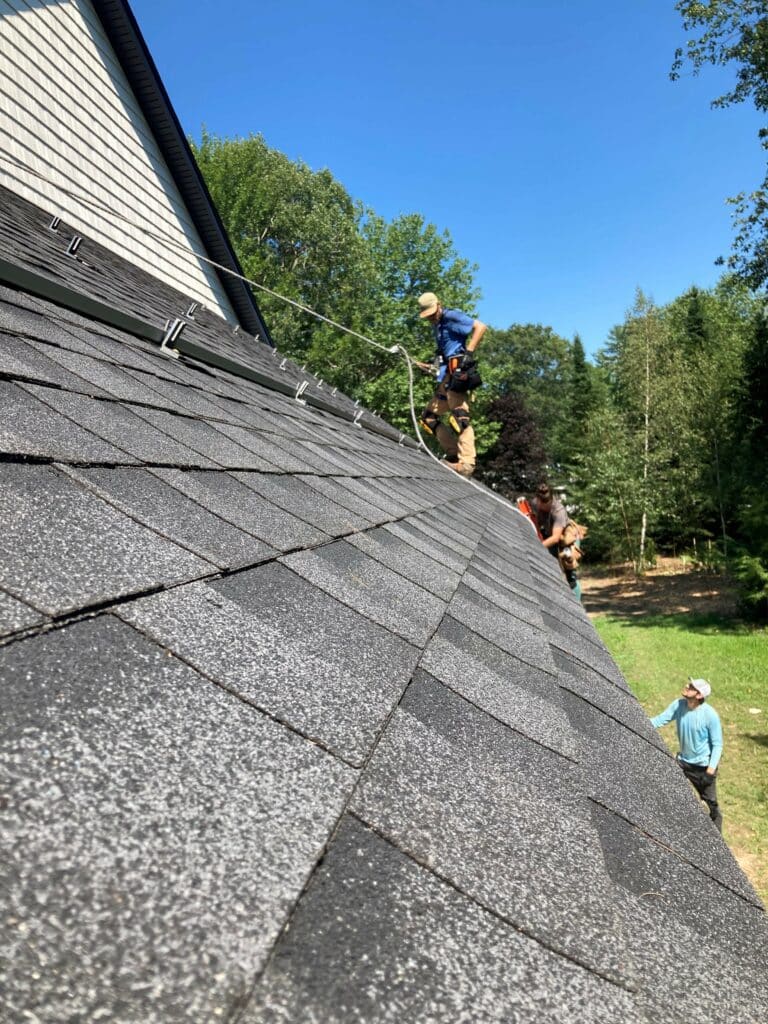 Asphalt roofing shingles (sometimes referred to as architectural or three-tab shingles) are the most common roofing material. These affordable shingles are very popular with home builders, and a typical three-tab asphalt shingle roof will last an average of 20 years. Architectural shingles can be warranted for 30 to 50 years.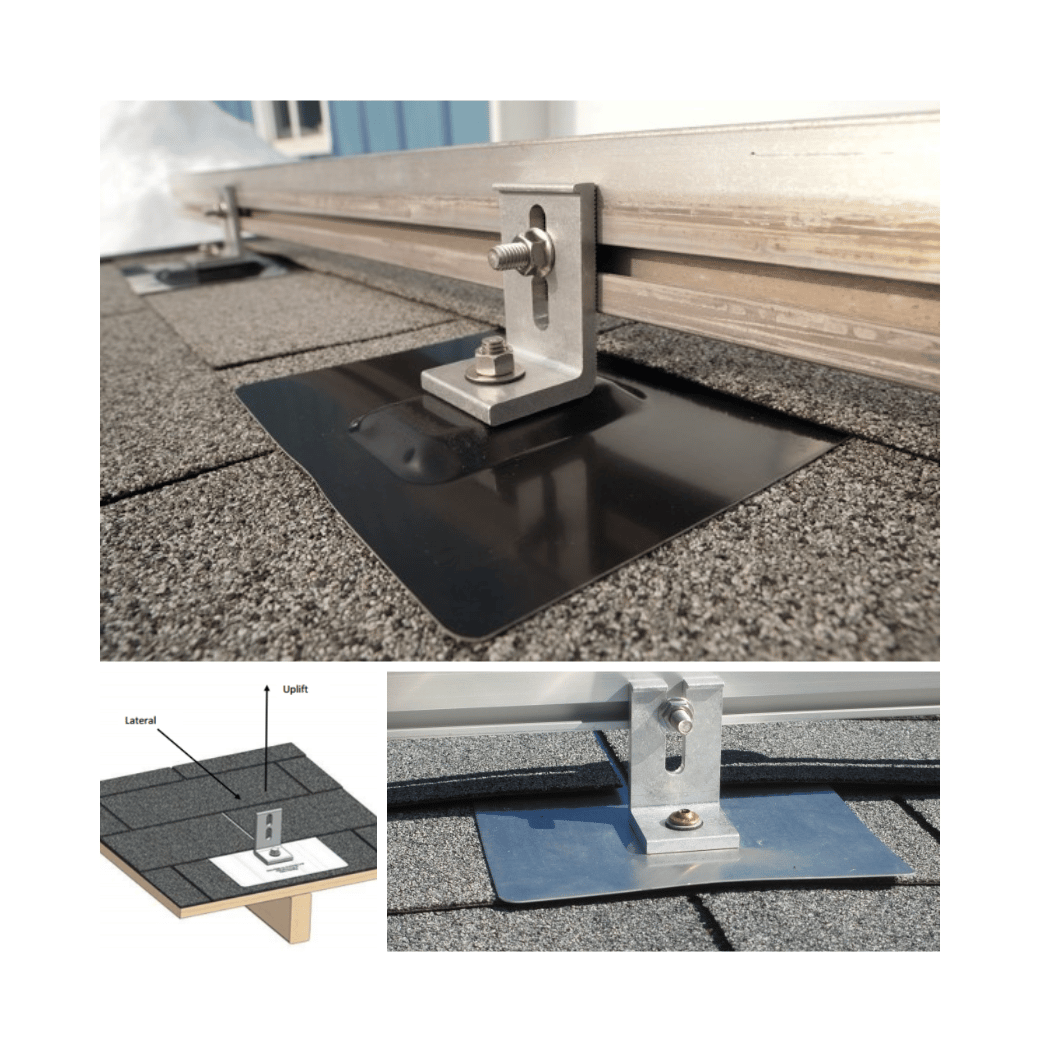 Installing solar panels on asphalt shingles is straightforward. The solar racking system is attached to the rafter structure of the roof via a bolt. This requires a penetration in the shingle course that is protected by a piece of flashing that runs up underneath the course above.
Should I Replace My Asphalt Roof Before Installing Solar?
If your asphalt roof is 10 years or less away from needing replacement, you should have it assessed by a roofing professional to determine roof health. If you need to replace your roof while you have solar panels, expect solar panel removal to cost thousands of dollars. To help, some customers will replace just the roof plane where the panels will be installed. Most roofers can replace shingles around a solar array as the array will shield the shingles underneath, prolonging life and saving you money. Maine Solar Solutions installs on asphalt shingle roofs.
Metal Roofs
The three most common metal roof types are:
1. Standing Seam Metal Roofing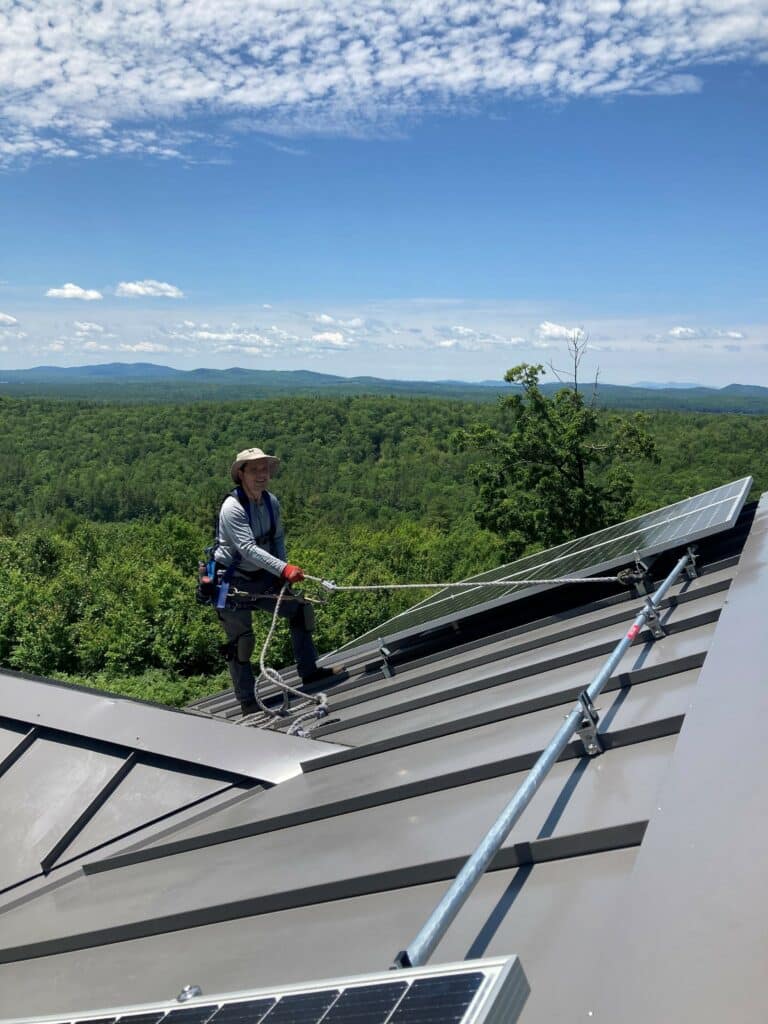 Standing seam metal roofing uses hidden fasteners under the seams of the metal roofing material to attach it to the roof structure below. With standing seam metal roofs, we can attach the solar array by clamping onto the seams, allowing us to avoid drilling holes in your roof to secure the array. Maine Solar Solutions can install solar arrays on most standing seam metal roofs.
2. Exposed Fastener Metal Roofing
Exposed fastener metal roofing (also known as "screw down" or corrugated metal roofing) uses screws placed through the metal roofing to attach to the roof structure below. Over time those exposed screws begin to work out of the metal and need to be tightened. This is not possible with a solar array installed. Unlike standing seam metal roofs, we need to drill through the metal roofing to secure the solar array. These penetrations would be unflashed. Exposed fastener metal roofs usually require structural upgrades to the roof's interior structure to ensure a safe installation. Maine Solar Solutions does not install solar arrays on most exposed fastener metal roofs.
3. Metal Shingle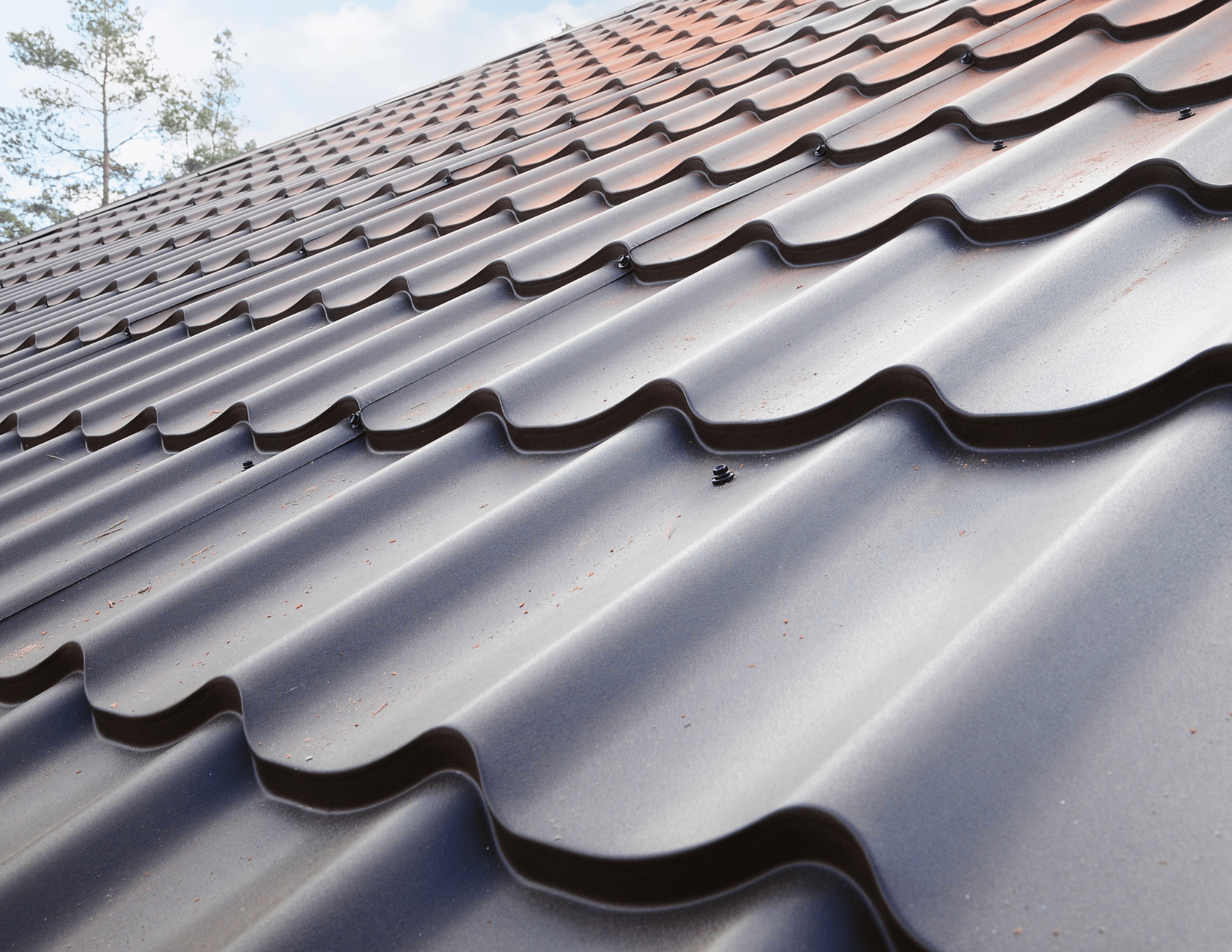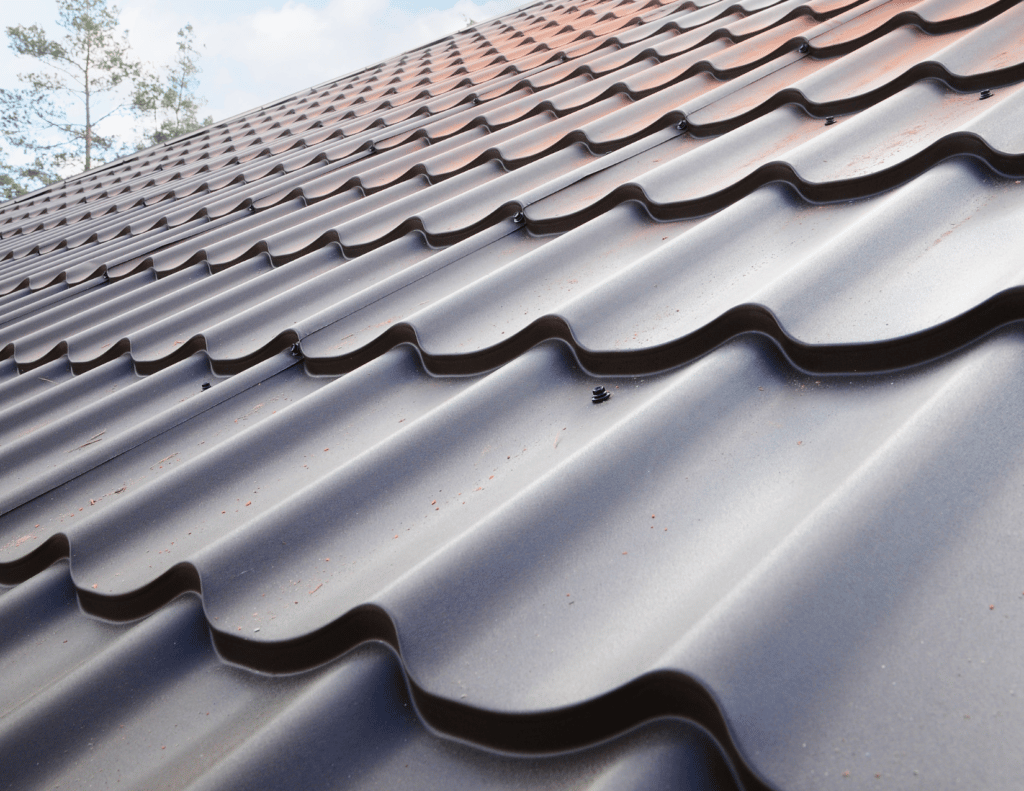 Finally, metal shingle roofs are easy to identify because they are designed to look like traditional shingle roofs but are made out of metal. These are not common in Maine. Maine Solar Solutions does not install on any metal shingle roofs.
But Wait, How Do I Tell The Difference?
Metal shingle roofs are not common in Maine and look like shingles, making them easy to identify. Exposed fastener and standing seam metal roofs can look very similar, however. Those two metal roof types are made of large metal sheets with vertical seams and can come in various materials and colors. The best way to tell the difference between an exposed fastener and a standing seam metal roof is to look for screws on the face of your roof. If you can see these screws or fasteners, then you have an exposed fastener metal roof. If you do not see it, then you most likely have a standing seam metal roof.
Flat Rubber or Concrete Roof
Rubber and concrete roofs are less common in Maine and are usually found on multi-family units or commercial roofs. Solar installers will install tilted or slanted metal racking for flat roofs to hold the solar panels at the exact angle necessary to gather solar energy. Alternatively, a ballast system might be used as a weighted racking system to hold solar panels in place. If you have a flat rubber or concrete roof, we recommend you call us so we can determine its suitability for solar.
Do I Have Other Options Besides My Roof?
Yes, you do have other options. Many customers also install solar panels on their garage, barn, outbuilding, or even a pre-wired solar shed! Ground-mounted solar arrays are also an excellent option if your roof is heavily shaded, not well oriented, or the wrong roof type.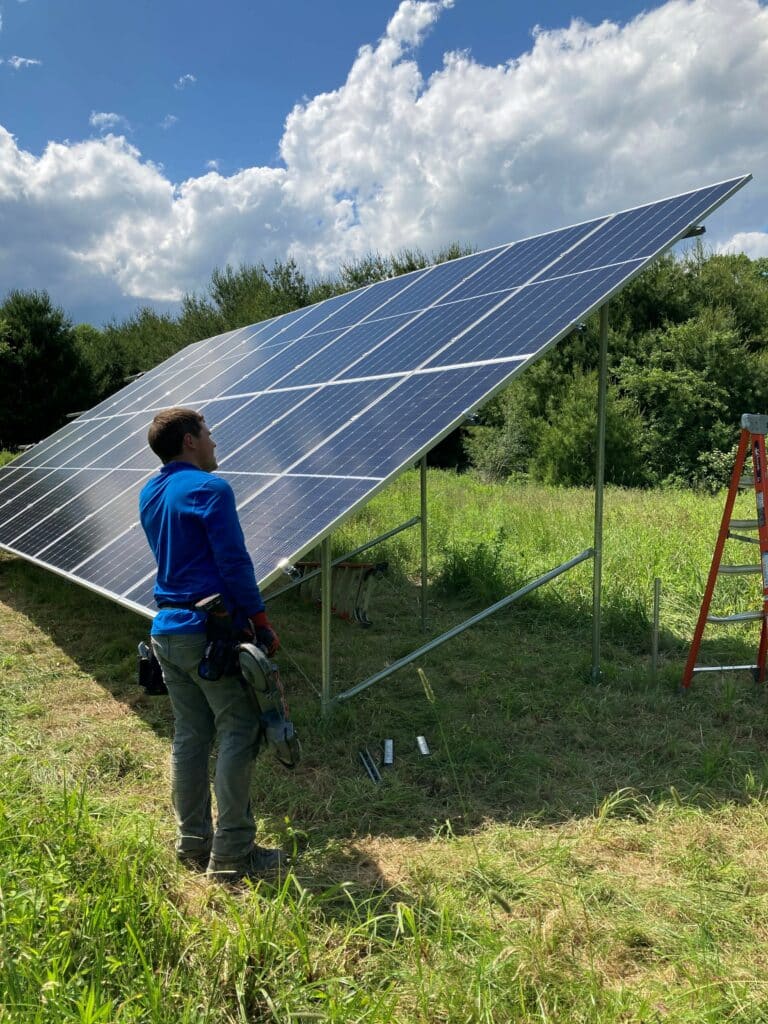 A ground-mounted solar array may cost 15-30% more than a similarly sized rooftop solar array. This is partly due to the structure on which the solar panels are installed. As noted above, a rooftop system is supported by the roof, meaning erecting a supporting structure is unnecessary. But with a ground-mounted system, an independent structure will need to be erected to support the panels. Although the initial cost may be higher, a properly oriented ground-mounted solar array is typically smaller than a shaded or poorly orientated roof array, which can contribute to a smaller cost differential in the end. Our team can work with you to give you pricing for each so you can make an informed decision for your specific location and budget.
Maine Solar Solutions Is Here To Help
Maine Solar Solutions will also always assess your roof's condition as part of our site survey. If we determine that your roof needs replacement, we can refer you to a trusted roofing contractor to give you a professional opinion. While re-roofing costs can be high, the savings of going solar should make up for it in the long term, and there's no better time to evaluate solar if you were planning on re-roofing anyway.
Do You Have More Questions About Going Solar?
Check out our Solar FAQS page or Homeowner's Guide to Going Solar In Maine to learn how to start the process and get your top solar questions answered – on your time.
Interested in learning more about our process and what it takes to go solar in Maine? Contact us or call (207) 871-7191 today.